What are Wolves?
Wolves are very intelligent, social animals that live in packs (families). The wolf pack is usually made up of the alpha pair, a male and female couple, and their offspring. (The lowest-ranking member of a pack is known as the omega.) Sometimes unrelated adults also live in the pack. The alpha pair decide where the pack will live and when it will hunt.
The alpha female gives birth to her pups in a den, usually in April or May. There are normally four to six pups in a litter, but sometimes there are more. At birth the pups weigh about one pound each. They cannot see or hear and must be constantly cared for by their mother. While the pups are very young, the mother will rarely leave the den except to get water. When the pups are older, the pack moves to a rendezvous site, usually an open field, where the pups can run and play and explore. All the members of a pack work together to raise and feed the pups.
Wolves communicate with one another using body language and sounds, including howling. Wolves howl to locate other members of the pack, or to warn other wolves to stay away from their territory.
Pack members depend on each other to hunt successfully, mainly for large hoofed animals like elk, caribou, muskox and deer. Like the big cats, the wolf is a carnivore, or meat-eater. The wolf, as a predator, has an important role in nature. The style of hunting used by wolves removes sick and weak animals from the herds of deer and elk. The balance of predator and prey (the animals that wolves and other predators hunt to survive) worked perfectly for thousands of years.
When the pup grows up, it may stay with its pack, in which case it is called a bider, or leave to start its own pack in a new territory. If it does this, it's called a disperser. A territory is the area in which a pack lives and hunts; the pack is likely to prevent other packs from using its territory.
There are two species of wolf: Canis lupus (the gray wolf) and Canis rufus (the red wolf.) The red wolf used to live all over the southeastern United States. Now, though, they exist in the wild only on a refuge in North Carolina. The gray wolf once lived in Canada, Alaska, Mexico, and the western and northeastern United States. But humans nearly wiped them all out many years ago. Now they live in Canada and Alaska, as well as the states of Minnesota, Wisconsin, Michigan, Montana, Idaho, Arizona and New Mexico and in and around Yellowstone National Park in Wyoming.
Wolves are
protected
under the Endangered Species Act in the United States (except for Alaska).
In
Native American
legend, wolves symbolize wisdom, strength, and loyalty and are regarded as teachers and pathfinders.
The wolf once
ranged
throughout Asia, Europe and North America.
There has never been a documented case of a healthy wild wolf killing a human in North America. Wolves are
fearful of humans
and will avoid contact even when they are in a pack.
Wolves are related to
dogs
(
Canis familiaris
) and
coyotes
(
Canis latrans
), as well as the jackal of Africa, the dingo of Australia, and thefox.
Many people are working for wolf
recovery
, which is an effort to return the wolf to many of the places it used to live.
Click on the audio links below to hear what wolves sound like.
(You will need Windows Media Player. If you don't have it, click
HERE
for download.)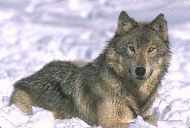 Fun Things to Do
(click on the activity, below)
Color in the states where wolves are located on a map of the U.S.
After reading about wolves on this page, try to complete the crossword puzzle
Word Hunt
Look for the following wolf words:
alpha, carnivore, coat, deer, howl, hunter, loyal, pack, predator, pup, range, social, survival, territory, wolf, Yellowstone
| | | | | | | | | | | | | |
| --- | --- | --- | --- | --- | --- | --- | --- | --- | --- | --- | --- | --- |
| T | O | S | U | R | V | I | V | A | L | I | O | Y |
| R | C | B | S | O | C | I | A | L | C | A | R | E |
| E | A | T | E | R | R | I | T | O | R | Y | S | L |
| T | R | W | E | A | R | T | I | O | A | D | N | L |
| N | N | O | P | U | P | Q | T | I | N | P | A | O |
| U | I | L | Q | E | N | A | J | M | G | I | R | W |
| H | V | F | T | M | D | L | Q | Z | E | X | A | S |
| O | O | I | A | E | U | P | L | J | C | O | A | T |
| W | R | I | R | J | M | H | A | T | R | K | B | O |
| L | E | P | A | C | K | A | Y | E | E | Y | H | N |
| I | W | A | B | E | L | G | O | X | E | Q | Z | E |
| E | A | G | X | Y | X | H | L | Y | D | O | V | R |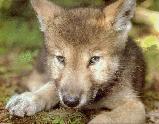 Scientific name: Canis lupus; Canis rufus
(Kingdom: Animalia; Phylum: Chordata; Class: Mammalia; Order: Carnivora; Family: Canidae; Genus: Canis)
Description:
Length--[gray] 4.5 to 6 feet from nose to tip of tail; [red] 3.5 to 5 feet.
Height--[gray] 2 to 3 feet at the shoulder; [red] usually somewhat smaller than the gray.
Weight--[gray] 75-125 pounds, with females generally smaller than males; [red] 45 to 80 pounds.
Color: [gray] From white to black, but most often gray, with many combinations, and with yellow, brown, tan and rust highlights; [red] Normally a reddish-gray, with black highlights.
Things You Can Do to Help Wolves
Learn more about wolves and wolf recovery efforts on the World Wide Web. Read more about wolves, and include information about them in reports and on personal web pages.
Tell other people what you know about wolves, and how important it is to save a place for wolves in nature.